If you have an ice resurfacer, whether it is a Zamboni, Olympia, or any other type of resurfacer, we can fix it. Annual preventive maintenance should be performed on every type of ice resurfacer to insure proper safety, operation, and reliability. Proper maintenance will help in the machine's ability to make faster, more attractive ice, which will help sell ice time, reduce costly down time, and service calls for upcoming ice season.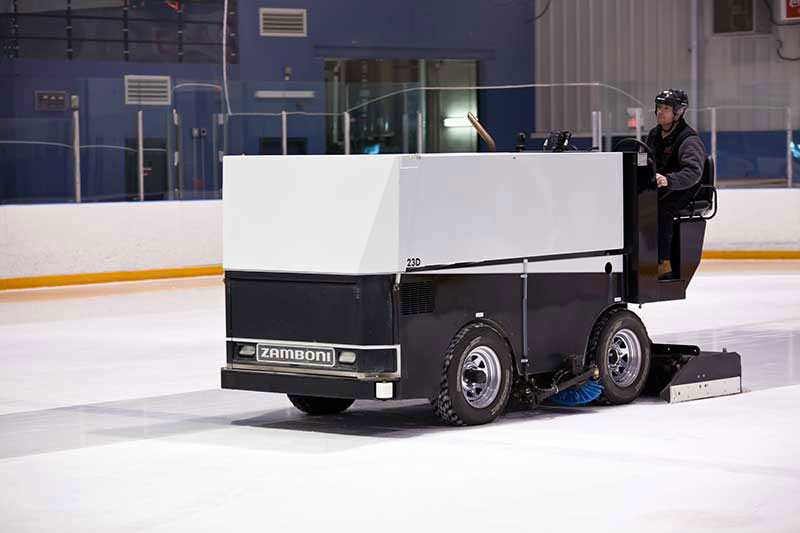 Install new safety decals where needed, replace snow shield if needed.
Replace vertical and horizontal conveyor bearings, inspect conveyors for visual damage and straightness.
Replace all replaceable lift arm bolts and bushings, check lift arm for wear and straightness.
Replace / or supply new spreader towel and squeegee.
Inspect conditioner for wear in critical areas.
Engine tune-up.
Replace LP fuel regulator, inspect LP fuel lock off and rebuild if required.
Check oxygen sensor for proper operation on units so equipped.
Exhaust emission test and adjust.
Check charging system, check battery condition (load test), clean battery cable connections.
Change engine oil and filter.
Lube all chassis grease zerks with factory recommended grease.
Change fluid in differentials and gear box.
Visually inspect differential ring and pinion gears for wear or damage.
Remove and inspect front and rear drive axles for wear, inspect front drive axle joints for wear.
Inspect, clean, and repack front and rear wheel bearings, replace bearings when needed.
Inspect tires for worn / missing studs or visible damage to tire casing.
Inflate tires to recommended specifications.
Replace hydraulic filters, remove and clean washable filters.
Visually inspect hydraulic pressure and return hoses for seepage and damage.
Remove, filter, and reinstall hydraulic fluid, replace if needed.