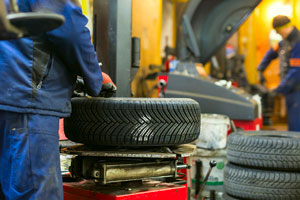 Wheel and Rim Repair Services for Automotive Service Providers
Wheel damage can take away from a vehicle's curb appeal. From scrapes to gouges and cracks, the unfortunate appearance can also result in an expensive fix: new wheels.
Luckily, Mobile Auto Service has perfected our techniques to meet the growing demand for high-quality wheel and rim repair services.
Our wheel repair services can fix a variety of wheel and rim damage – from peeling clear coats and damaged rims to bent and scratched wheels, our skilled technicians are able to return many types of wheels to their original condition.
Our wheel repair process begins with a wheel and rim inspection and could include wheel straightening, refinishing, polishing, buffing, grinding, powder coating and repainting to ensure that the repaired wheels match all of the other wheels on a customer's vehicle.
Using Mobile Auto Service for your business' aluminum/alloy wheel repair needs provides you with the reassurance that:
All customer repairs are 100% guaranteed. Each wheel repair comes with a limited lifetime warranty in writing.
Our technicians have the highest level of training. Mobile Auto Service LLC invests significantly in the training and preparation of all of our technicians, equipping them with the skills to provide an unparalleled level of service.
You'll enjoy fast, reliable service. In many locations, our technicians will have you back on the road in just one day.